As the "Voice of Lesbian Senior" ….. Very important information for the American LGBT community …. Take a look!! From an awesome blogger friend!!
The Fifth Column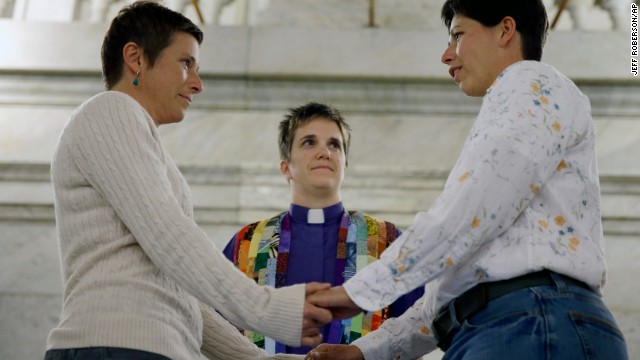 April Dawn Breeden, left, and longtime partner Crystal Peairs are married by the Rev. Katie Hotze-Wilton at St. Louis City Hall on Wednesday, November 5. A Missouri judge on November 5 overturned the state's ban on same-sex marriages and ordered registrars to start issuing licenses to gay and lesbian couples. More than 30 states and the District of Columbia allow marriage for same-sex couples.
TFC readers…for your edification:
(CNN) — Here's some background information about same-sex marriage in the United States and worldwide.
Facts:
LEGAL
In the following 32 states and the District of Columbia: Alaska, Arizona, California, Colorado, Connecticut, Delaware, Hawaii, Idaho,Illinois, Indiana, Iowa, Maine, Maryland, Massachusetts, Minnesota, Nevada, New Hampshire, New Jersey, New Mexico, New York, North Carolina, Oklahoma, Oregon, Pennsylvania, Rhode Island, Utah, Vermont, Virginia, Washington, West Virginia, Wisconsin and Wyoming.
BANNED
In the following states: Alabama, Georgia, Kentucky, Michigan, Mississippi, Missouri, Montana, Nebraska, North Dakota…
View original post 4,300 more words